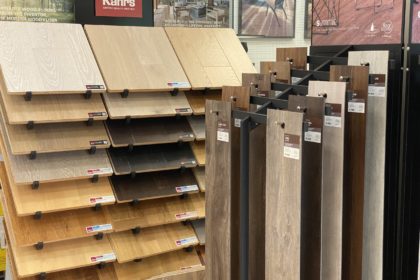 Welcome to our blog, where we explore the transformative power of hardwood flooring in North East Chicagoland.
In this article, we'll delve into the enchanting world of hardwood floors and uncover why they are the ultimate choice for residential and commercial spaces. From timeless elegance to exceptional durability, hardwood flooring offers a multitude of benefits that can elevate your space to new heights.
Timeless Beauty:
Embrace Timeless Elegance: Discover the Enduring Beauty of Hardwood Floors
One of the most remarkable aspects of hardwood flooring is its timeless beauty. With a wide range of wood species to choose from, such as oak, maple, or walnut, you can create a floor that exudes natural warmth and sophistication. No matter the design style, hardwood floors seamlessly blend with any interior, leaving a lasting impression on residents and visitors alike.
Durability and Longevity:
Built to Last: Unleashing the Strength and Longevity of Hardwood Flooring
When it comes to durability, hardwood flooring stands out from the crowd. With proper maintenance and care, hardwood floors can last for generations, making them a sound investment for homeowners and businesses in North East Chicagoland. Their robust nature allows them to withstand high foot traffic, furniture movement, and daily wear and tear without losing their allure.
Versatility in Design:
Unleash Your Creativity: The Versatility of Hardwood Flooring in Design
Hardwood floors offer endless design possibilities. Whether you prefer a classic, rustic, or contemporary look, hardwood can adapt to any style. Its natural colors, distinctive grain patterns, and different finishes allow you to customize your flooring to perfectly match your desired aesthetic. From sleek and modern to warm and inviting, hardwood floors have the power to transform your space into a true reflection of your personal style.
Healthy Indoor Environment:
Breathe Easy: The Health Benefits of Hardwood Flooring
For those concerned about indoor air quality, hardwood flooring is a smart choice. Unlike carpets, which can trap allergens and dust, hardwood floors are hypoallergenic and easy to clean. This makes them an ideal option for individuals with allergies or respiratory sensitivities. Additionally, hardwood floors do not harbor bacteria or mold, contributing to a healthier and safer environment for you and your family or employees.
Increased Property Value:
Invest in Elegance: Boosting Property Value with Hardwood Flooring
Hardwood flooring is not only a beautiful addition to your space but also a valuable one. It is a highly sought-after feature for homebuyers and can significantly increase the resale value of your property. Whether you're planning to sell in the future or simply want to enjoy the benefits of hardwood floors, investing in them is a wise decision that pays off in the long run.
Conclusion:
Hardwood flooring has the power to transform your space, bringing timeless beauty, durability, and versatility to North East Chicagoland homes and businesses. With its enduring appeal, hardwood floors add value and create a warm and inviting atmosphere. Whether you're drawn to the timeless elegance, the durability and longevity, the design versatility, the health benefits, or the increased property value, hardwood flooring is a magical choice that can truly elevate your space to new heights.
We hope you found this article informative and inspiring. Stay tuned for more insights on hardwood flooring and interior design in our future blog posts!