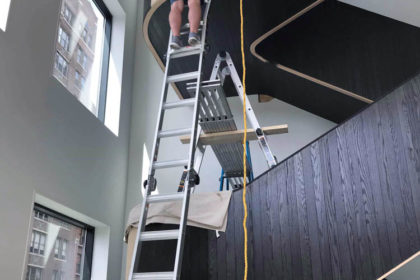 Welcome to our blog, where we delve into the impeccable art of wood flooring installation brought to you by ACE Wood Flooring.
In this article, we'll explore the expertise and craftsmanship that sets ACE Wood Flooring apart in the North East Chicagoland area. From meticulous preparation to flawless execution, their dedication to delivering exceptional wood flooring installations ensures that your space becomes a true masterpiece.
Precision Preparation:
Setting the Foundation: The Importance of Meticulous Wood Flooring Preparation
At ACE Wood Flooring, perfection starts with thorough preparation. Their team of skilled professionals meticulously assesses the subfloor condition, ensuring it is level, clean, and free of any imperfections. This critical step guarantees a solid foundation for the wood flooring, minimizing future issues and ensuring a flawless installation that stands the test of time.
Expert Selection and Acclimation:
Handpicked for Perfection: The Art of Selecting and Acclimating Wood Flooring
ACE Wood Flooring understands that the quality of materials plays a vital role in the final result. Their experts guide clients through the process of selecting the ideal wood species, considering factors such as durability, aesthetics, and compatibility with the space. Furthermore, they ensure proper acclimation of the wood flooring to the environment, allowing it to adjust to the humidity and temperature conditions of North East Chicagoland for optimal performance.
Impeccable Installation Techniques:
The Art of Flawless Execution: ACE Wood Flooring's Impeccable Installation Techniques
ACE Wood Flooring's team of highly skilled craftsmen possesses the expertise to bring your vision to life. From intricate herringbone patterns to classic straight planks, their installation techniques are meticulous, precise, and tailored to your unique requirements. They combine the perfect balance of skill, experience, and attention to detail to achieve a seamless and visually striking wood flooring installation.
Finishing Touches and Attention to Detail:
Elevating Elegance: ACE Wood Flooring's Finishing Touches and Attention to Detail
The true artistry of wood flooring installation lies in the finishing touches. ACE Wood Flooring ensures every detail is flawlessly executed, from carefully matching wood grains to expertly blending transitions with other flooring materials. Their commitment to perfection extends to the final steps of sanding, staining, and applying top-quality finishes, creating a polished and refined surface that highlights the natural beauty of the wood.
Customer Satisfaction and Longevity:
Exceeding Expectations: ACE Wood Flooring's Commitment to Customer Satisfaction and Longevity
ACE Wood Flooring takes immense pride in their work and strives for complete customer satisfaction. They go above and beyond to ensure your wood flooring installation surpasses your expectations, providing guidance, support, and post-installation care advice. With their unwavering commitment to quality and longevity, ACE Wood Flooring creates wood flooring masterpieces that will delight you for years to come.
Conclusion:
With ACE Wood Flooring, your wood flooring installation becomes a true work of art. Their precision preparation, expert selection and acclimation, impeccable installation techniques, attention to detail, and commitment to customer satisfaction culminate in breathtaking wood flooring installations in the North East Chicagoland area. Trust in their craftsmanship to transform your space into a haven of elegance and beauty that will endure the test of time.
We hope you found this article enlightening and inspiring. Stay tuned for more insights on wood flooring and ACE Wood Flooring's expertise in our future blog posts!